Monthly Market & Business Intelligence
In today's volatile climate the need for accurate and reliable information has never been greater, but how do you achieve this with limited time, resources and budgets. Since 1996 European Electronic Markets Forecast (EEMF) has tracked developments in the European electronics industry providing a comprehensive and objective analysis of the key developments impacting the European electronics industry.
Why EEMF ?
EEMF is a leading source of electronics market intelligence delivered monthly. Supplies regularly updated and freshly researched statistical, market and company news.

Fully researched and up-to-the minute original research articles on key areas within the electronics sector, providing accurate and current statistics and analysis of the target market.

EEMF utilizes over 40 years of industry and market research experience to provide you not only reliable but objective analysis.

Information is provided in a single source and draws upon views of other research organizations to ensure complete coverage of the latest developments.

EEMF is not limited in terms size with our objective to provide as detailed and comprehensive coverage as possible each month.

The newsletter is e-mailed directly to your PC on the day of publication.

Multi-user licenses are available to allow you to distribute the newsletter to key people in your organization, including placing it onto your internal management system.

Newsletter subscribers receive discounts on all Reed Electronics Research reports.
Summary of Contents
Market Analysis
Up-to-the-minute analysis of the key sectors of the European and Global electronics industry including original research articles on key sectors of the European electronics industry
Industry News
The latest industry and company news split by:
Mergers & Acquisitions

Automotive

EMS/PCB

Production

Renewable Energy/CleanTech

Semiconductors
Asia Pacific Electronics
Highlighting the growing importance of Asia on the global electronics industry, EEMF provides a monthly summary of key developments within the region.
Industry Outlook
Monthly overview of developments in the broader European manufacturing sector focusing on the latest Purchasing Managers' Index (PMI) data. In addition, the sector provides regular updates on the European and global economy and developments in the supply chain.
Ad-Hoc Reports
Separate reports covering developments in the European electronics industry are provided free to subscribers including developments in the automotive industry, an overview of electronics production in Western Europe and a second report covering developments in CEE.
Price
At only £450 for 12 issues EEMF is a fraction of the cost of internally tracking the latest industry developments and with a 20% introductory discount for new subscribers the benefits are even greater.
Still not sure ? Click here to download a free sample copy of EEMF and you'll see how easy staying in touch with your industry can be.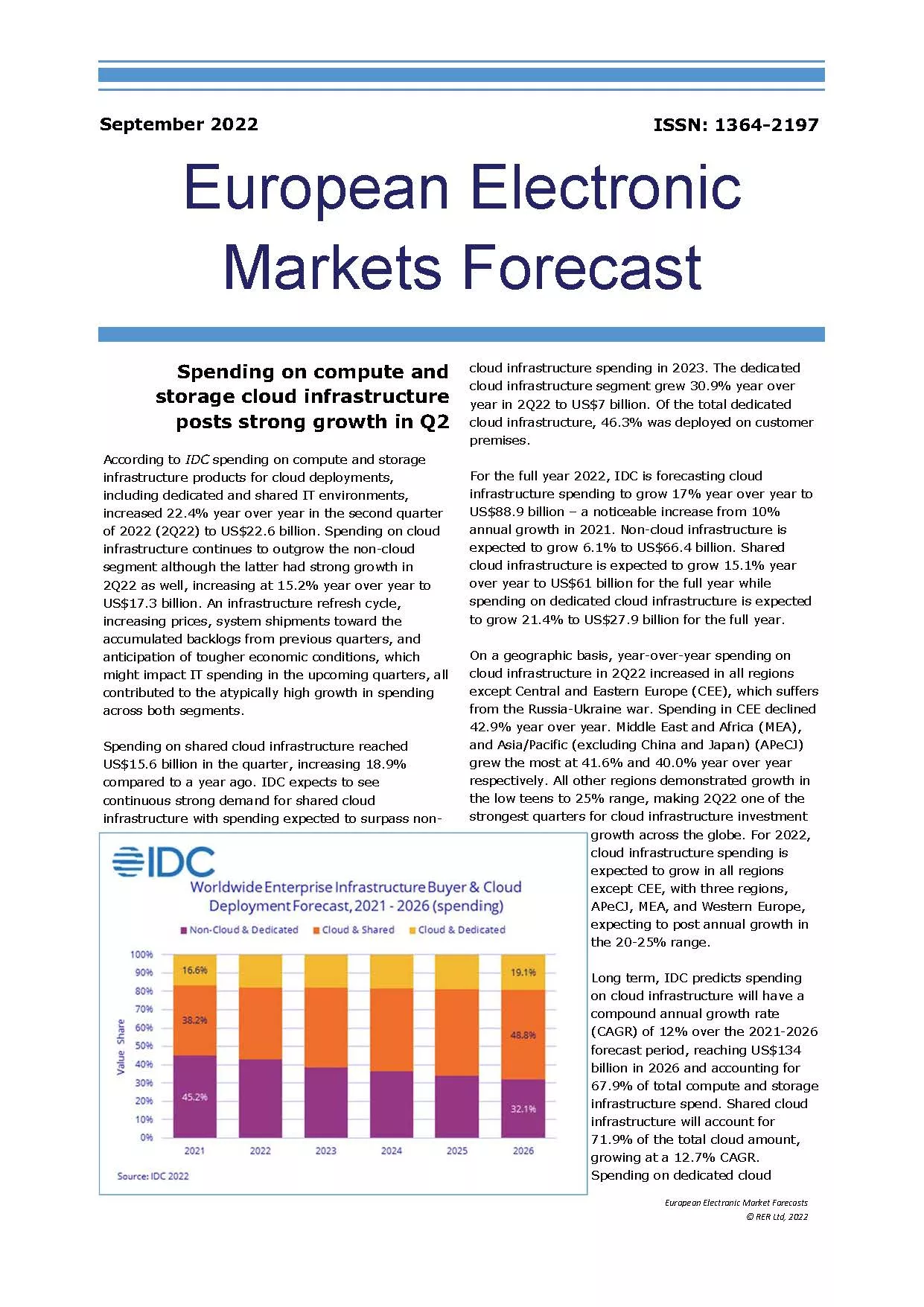 Pricing
EEMF 12 Month Subscription
£360.00
Your newsletter will be delivered separately by email.
Please allow up to 2 working days for delivery.