Yearbook of World Electronics Data - Volume 1 2023 - West Europe
In providing the forecasts for the current study, which were made in June, we have considered developments in the European and global economy. However, significant downside risks remain which could lead to growth in 2023 and 2024 being lower than forecast. We currently expect growth to ease over the course of the second half of 2023 and into 2024 before gaining momentum in the latter half of the year and then accelerate over the remainder of the forecast period. Component shortages have continued to ease over the course of 2023 and are expected to normalise in 2024. The forecasts for 2023 through to 2026 are based on constant 2022 exchange rates and prices and therefore exclude the impact of inflation.
In Euro's the production of electronic equipment in Western Europe increased by an estimated 5.9% in 2022 to Euro 127.3 billion and compared to growth of 6.4% in the prior year as output rebounded from the pandemic.
Based on current indicators we are forecasting that growth in electronic equipment output in Western Europe will ease to 2.2% in 2023, edge-up to 2.9% in 2024 with growth gaining momentum in the second half of the year then accelerate to 3.9% and 4.1% in 2025 and 2026, respectively.
In 2022, the production of electronic components in Western Europe amounted to Euro 50.0 billion, 28.2% of overall electronics production. The shortage of components in 2021, which fuelled higher prices and the move by companies to increase output, continued in 2022 leading to a second year of double-digit growth (2021: 14.9%/2022: 12.1%).
The latest edition of Reed Electronics Research's annual survey provides an in-depth outlook for the West European electronics industry through to 2026. Published since 1973 the Volume 1 of the
Yearbook of World Electronics Data provides:
A single source solution allowing you to track the electronics industry in 16 countries in Western Europe

13 major product groups

Market and production forecasts

Summaries provided in Euros & US dollars

CD-option allows you to manipulate the data quickly and easily: produce your own subsets or summaries of the data, create your own forecasts or cut and paste the data into your own in-house reports and presentations.

Market Data and Forecasts 2020-2026

Production Data 2020-2023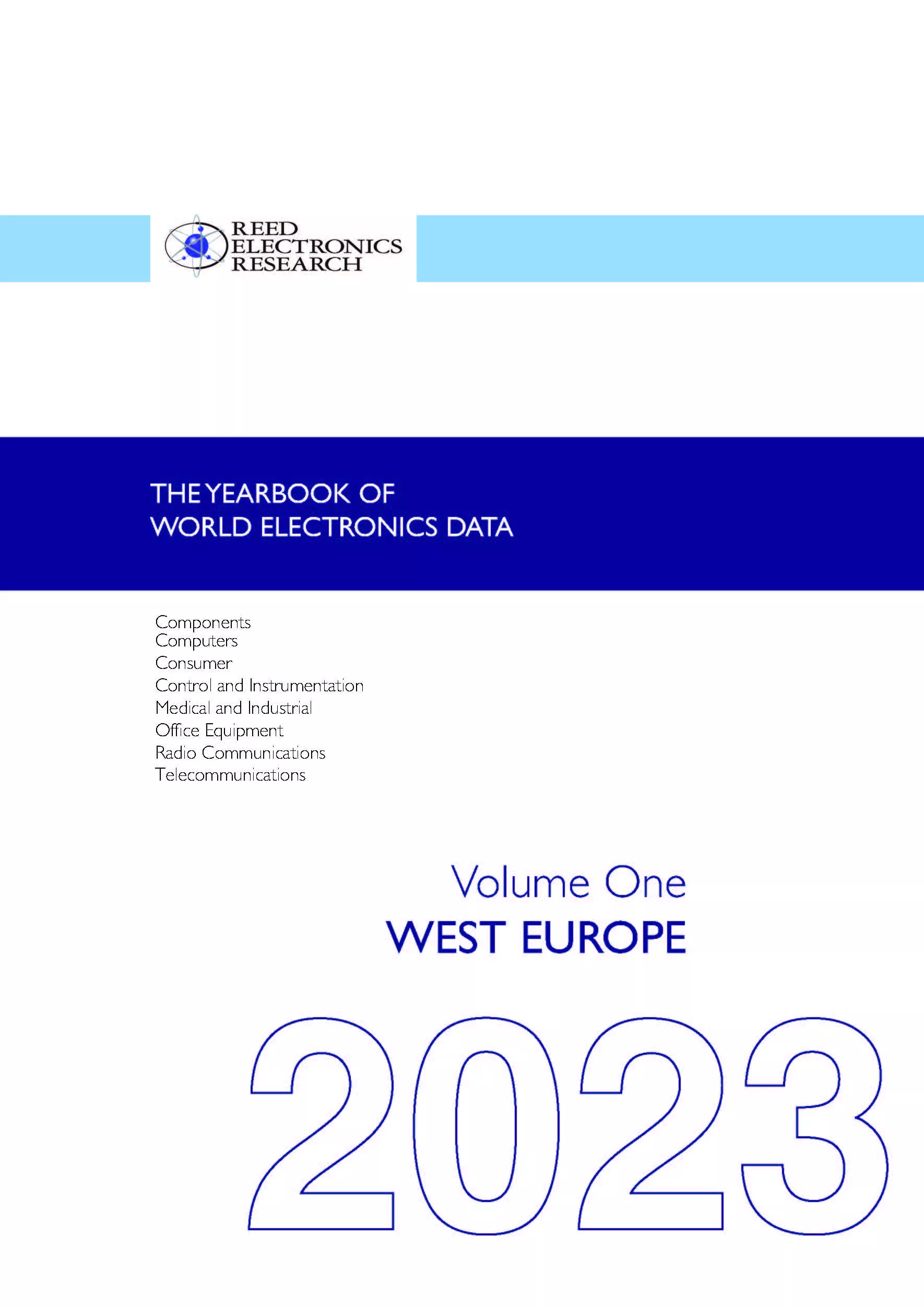 First Published in 1973
ISBN 1 905429 932
Publication Date: July 2023
Pricing
Yearbook of World Electronics Data Volume 1 2023
Report only
£995.00
Yearbook of World Electronics Data Volume 1 2023
Report + CD ROM
£1,295.00
Yearbook of World Electronics Data Volume 1 2023
Corporate Licence
£1,990.00
The Corporate License allows electronic distribution (excluding distribution to third parties) of the report throughout your organisation, making it a cost effective and essential tool for your business.